Say hello to Amanda!
Amanda is an ovo-lacto-vegetarian (a vegetarian that doesn't eat animal flesh, but consumes eggs and dairy - I had to look this up!), creator of the blog Dancing Veggies and my Secret Recipe Club partner for the month of February.
Amanda's blog is filled to the brim with simple and quick vegetarian and vegan recipes, with ingredients that can be easily found at your local markets, and the yummy recipe I picked from Dancing Veggies came along at the perfect time. As you know, I've been searching high and low for new savoury breakfast ideas, and what better idea than this...........
Breakfast Quinoa with Fresh Corn (see original recipe from Dancing Veggies here)
+
makes 2-3 serves
+
coconut oil (or olive oil) | 1/2 brown onion, finely diced | 1 clove garlic, minced | 1 small sweet potato, cubed | 2 tomatoes, diced | 1 corn cob, kernels removed | 1/2 cup quinoa | 1 cup vegetable stock | 1/2 tsp cayenne pepper | 1/2 tsp chilli powder | juice of a lemon | handful of baby spinach | sea salt | 4 organic eggs, boiled
Heat the coconut oil (or olive oil) in a medium sized pot over a medium heat. Add the onion and garlic and cook for a few minutes before adding the sweet potato, cooking for approximately 7-10 minutes (potatoes should still be firm but onion and garlic should be starting to brown).
Add the tomatoes, corn, quinoa, and spices and stir well to make sure everything is well combined before adding the vegetable stock. Bring to a quick boil, then cover and turn heat to low and simmer for 17-20 minutes.
Quinoa is done when the grains have opened up but are still slightly al dente. At this stage, squeeze in you lemon juice, stir through the spinach and test for seasoning.
Divide between 2 medium sized jars with lids and top with the peeled, boiled eggs.
+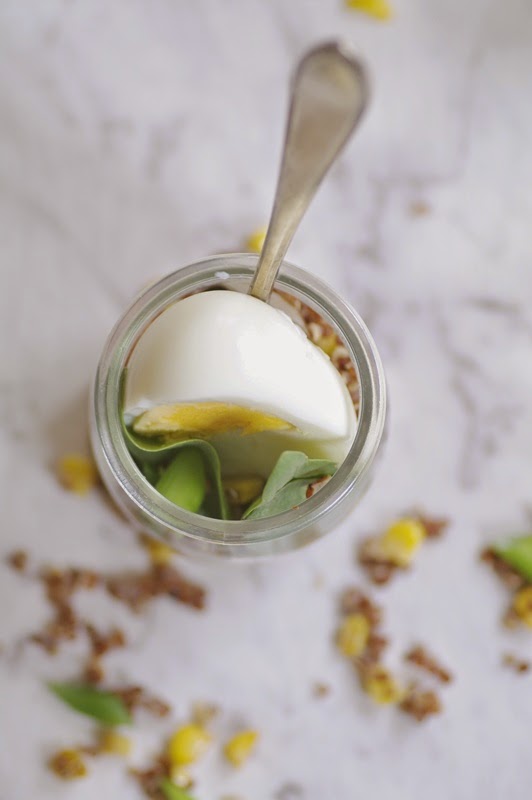 It's a wonderful recipe that you can easily build on, depending on your mood (and appetite). For me, I added a little more protein to the mix to help keep me satisfied for longer during the day, however you could add more greens, swap the eggs for some chicken, or perhaps even add a healthy dollop of full fat natural organic yoghurt...now that will keep you going right though to lunchtime.
Thanks for the inspiration Amanda!
The Secret Recipe Club: Is a way to find and share new blogs. Each month we are secretly assigned to another member of the club where we select a recipe to make, photograph and share on-line.